As part of The Big Sell 2023, members of our senior management team around the country hit the street to take part and show our support for the campaign.
Chief Financial Officer and Board Director, Don Burnett has taken part in The Big Sell for the past seven years and therefore has some idea of what to expect on selling day. Located on the corner of Pitt St and Martin Place with vendor David on a rainy Sydney morning, the pair tried their best to make a few sales.
Don noted "It is becoming harder and harder to engage with the public, as so many people simply use their headphones or smartphones as an excuse to avoid making eye contact with others on the street. This was very disheartening for me, but I was astonished by David's ability to remain positive and resilient, knowing the next sale was just around the corner."
As Don has mentioned in prior years; "The most important thing for the Vendors is to NOT be invisible. So, the next time you see Vendor in the street selling The Big Issue, if you have a smartphone for a tap and go purchase, please buy a magazine. And if you don't care to purchase a magazine, simply make a point of smiling at the Vendor and saying G'day."
Despite excellent coaching from David, Don did not have a very successful morning, selling only two magazines within the hour.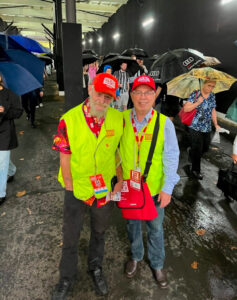 Joe Vecchi, Business Manager in ACT was out in Woden Town Square, Canberra with local vendor Grant.
Grant has been selling The Big Issue for over 16 years, starting at the age of 20. Manning the Westfield Woden site all these years, he has become a local connecting and engaging with regular customers with his big smile.
Joe said, "An amazing, humbling experience had with Grant, the happiest proud fellow I have met in quite a while".
Selling 5 magazines within an hour, Joe and Grant made a fantastic team.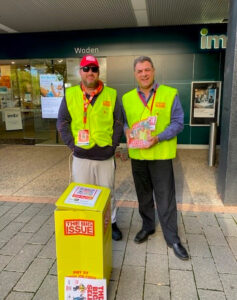 Our Business Manager in QLD also played his part in raising awareness of homelessness. Chris Intziadis campaigned on Queen Street in Brisbane saying he "Loved it. It was fun and felt good doing good".
Chris was partnered with vendor Jim who moved from Melbourne and travels between the Gold Coast and Brisbane selling The Big Issue.
Over the hour Chris and Jim were together they managed to sell 5 magazines to the public calling it an official success.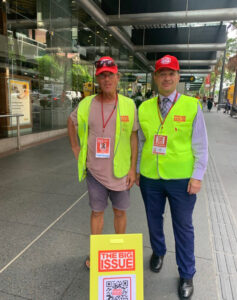 Glenn Robertson, State Operations Manager for NSW also played his part in the hustle and bustle of Lloyd Rees Fountain in Sydney.
Glenn was fortunate enough to be partnered with loyal vendor Rachael, sharing her tactics of selling with her 8-year's experience with The Big Issue. "Her accepting and genuine approach has an infectious peaceful demeanour", Glenn said.
The Big Issue has assisted Rachael to now have her own home whilst looking after her 2 young grandchildren when not selling the magazine, stating that it gives her a 'sense of worth'.
This edition of the magazine was extra special to sell for Rachael as she had her poem printed on page 6, which she was rightfully proud of. Glenn and Rachael called it a successful deal selling 4 magazines within just 30 minutes!
Rachael is definitely a success story and a true example of what The Big Issue is doing to support people in helping themselves.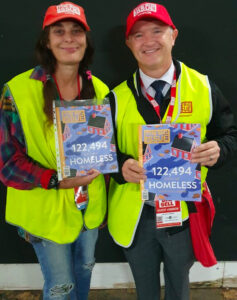 General Manager of WA, Wayne Stone explained his experience during The Big Sell to be humbling and rewarding. Wayne had the privilege of being partnered with vendor Ron, who has been selling the magazine for over 12 years!
Located at Hay St Mall Ron and Wayne sold a total of 4 magazines within the hour, a first time achievement for Wayne.
Wayne took away a valuable point and 'asks people to acknowledge sellers, don't ignore them. Doesn't mean you have to buy, but they are a person and a person clearly trying to make a small living in hard circumstances.'
It was a valuable experience for both Ron and Wayne, looking at the bigger picture of life and appreciating the smaller things.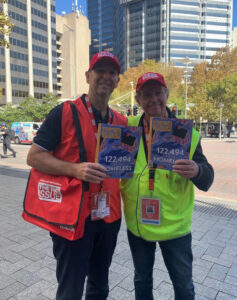 MSS Security has been a proud supporter of The Big Issue since the start of our Workplace Giving Program in 2015. The philosophy behind the Workplace Giving Program is 'Australians Helping Australians in Need'.
MSS has contributed over $6400 in donations to The Big Sell campaign this year and counting. There is still time to donate to this great cause, The Big Issue needs our help to continue to support hard-working vendors.
Donate now: The Big Sell – MSS Security